Basilius Besler
Wöhrd 1591 - 1629


Basilius Besler (1591-1629) was a pharmacist in Nuremberg. During the rule of bishop Johann Conrad von Gemmingen (approx. 1561-1612) he was in charge of the bishop's gardens in Eichstätt. In 1586 Besler took over the pharmacy at the Nuremberg hay market. He set up his own botanical gardens and a comprehensive collection of natural history specimens and was soon known as a botanist and collector of natural history specimens.
He described his then famous natural history showcase in two books. In 1597 the bishop of Eichstätt instructed him to create a botanical garden on the premises of Willibaldsburg Castle. In 1609 Basilius Besler wrote a description of this garden. The precious work he then produced, his famous plant atlas "Hortus Eystettensis", was published in 1613 by Basilius Besler and Ludwig Jungermann and printed in large format, with the bishop financing it.
The work contains 1086 illustrations of plants from 367 copperplate engravings, most of which were depicted in their natural size. The copperplates were engraved by W. Kilian, R. Custos, Fr. von Hulsen and others according to drawings by Basilius Besler . The classification in the encyclopedia of plants was carried out on the basis of the plants' seasonal appearance from spring, summer and autumn to winter.
Basilius Besler was no scientist and therefore limited himself to indicating where information about each plant could be found in expert literature (Camerarius, Clusius, Cauhin, Fuchs, Tabernaemontanus, Lobelius etc.) and giving the plants' Latin and old German names.
The work depicts 349 German, 209 southern- and southeastern European, 63 Asian, 9 African and 23 American species. "Hortus Eystettensis" was first published in a 300 piece edition and in 1613 was the most modern book on plants of its time.
Basilius Besler reflected the status quo before the introduction of overseas flora to Germany. C. Plumier honored Besler posthumously by naming a climbing bush Beseleria.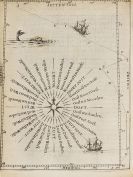 Willebrord Snellius
Tiphys Batavus. 2 Beigaben
2,664 $
Details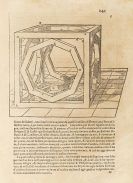 Pietro Accolti
Lo inganno de gl'occhi, prospettiva pratica
3,108 $
Details

Matthäus Merian
Topographiae Galliae, Teile 5 bis 13 in 1 Band
1,998 $
Details